GigaSMART

SIP/RTP Correlation
Required Licenses: SIP/RTP Correlation (and
FlowVUE

for session-aware load balancing for RTP)

Session Initiation Protocol (SIP) is the dominant method to initiate, maintain, modify,

and terminate voice calls in service provider and enterprise networks. Real-time

Transport Protocol (RTP) is used to manage the real-time transmission of voice

payload across the same networks. Visibility into a subscriber's voice traffic requires

the ability to understand the subscriber attributes and stateful information contained

within SIP to correlate subscriber-specific RTP traffic so that monitoring tools can

achieve an accurate view of the subscriber's traffic on the network.

 

The GigaSMART SIP/RTP correlation application correlates the subscriber-specific

attributes and the endpoint identifiers of the RTP streams where the session is carried,

as well as other SIP-related attributes that are exchanged as part of the control

sessions. Use SIP/RTP correlation to leverage a subscriber-aware monitoring policy on

Gigamon's Visibility platform and to optimize current tool infrastructure investments by

providing only relevant data to tools while increasing visibility into subscriber traffic.

This helps improve QoE and performance. Carriers gain access to the subscriber's

traffic by reliably correlating and passing all the identified subscriber's control and data

sessions to the analytics/monitoring probes and/or billing subsystems for an accurate view of the subscriber's sessions.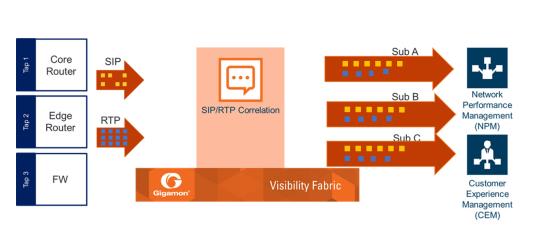 SIP is a signaling protocol for VoIP and VoLTE call initiation. It is implemented with RTP to control the payload. GigaSMART SIP/RTP correlation provides customers visibility into VoIP, VoLTE, SMSoLTE, and RCS traffic, and allows them to filter and forward traffic for a subscriber to the tools.
All SIP traffic is sent to all tool ports, as follows:
| | | |
| --- | --- | --- |
| | | all SIP packets sent to all ports within a load balancing port group. |
all SIP packets sent to all ports within a

GigaStream

.
| | | |
| --- | --- | --- |
| | | all SIP packets sent to all tool ports belonging to maps. |
RTP traffic will be sampled and sent to the maps with the rules that match. RTP non-correlated traffic will be sent to the collector.
SIP/RTP correlation can be used for both enterprise and service providers, where ever
there is SIP/RTP traffic, such as in wire-line communications, wireless communications, and packet cable networks. This includes enterprise, IP Multimedia Subsystem (IMS), or fixed network implementations of SIP, as well as any media controlled by SIP, such as voice, text, or streaming media.
In addition, SIP/RTP correlation correlates SIP signaling and RTP payload for all
sessions selected by a SIP User Agent (UA), a caller ID in a forward list, with flow
sampling from 0 to 100%.