5G Correlation
The 5G Correlation feature correlates the 5G Control and User packets to deliver it to different tool ports based on the filtering policies configured. The control and user packets are processed in Control Plane Network (CPN) and User Plane Network (UPN) located in same or different locations, and then the packets are sent to the tools. The following diagram shows the High-Level LTE / 5G CUPS Visibility Environment.
Topics: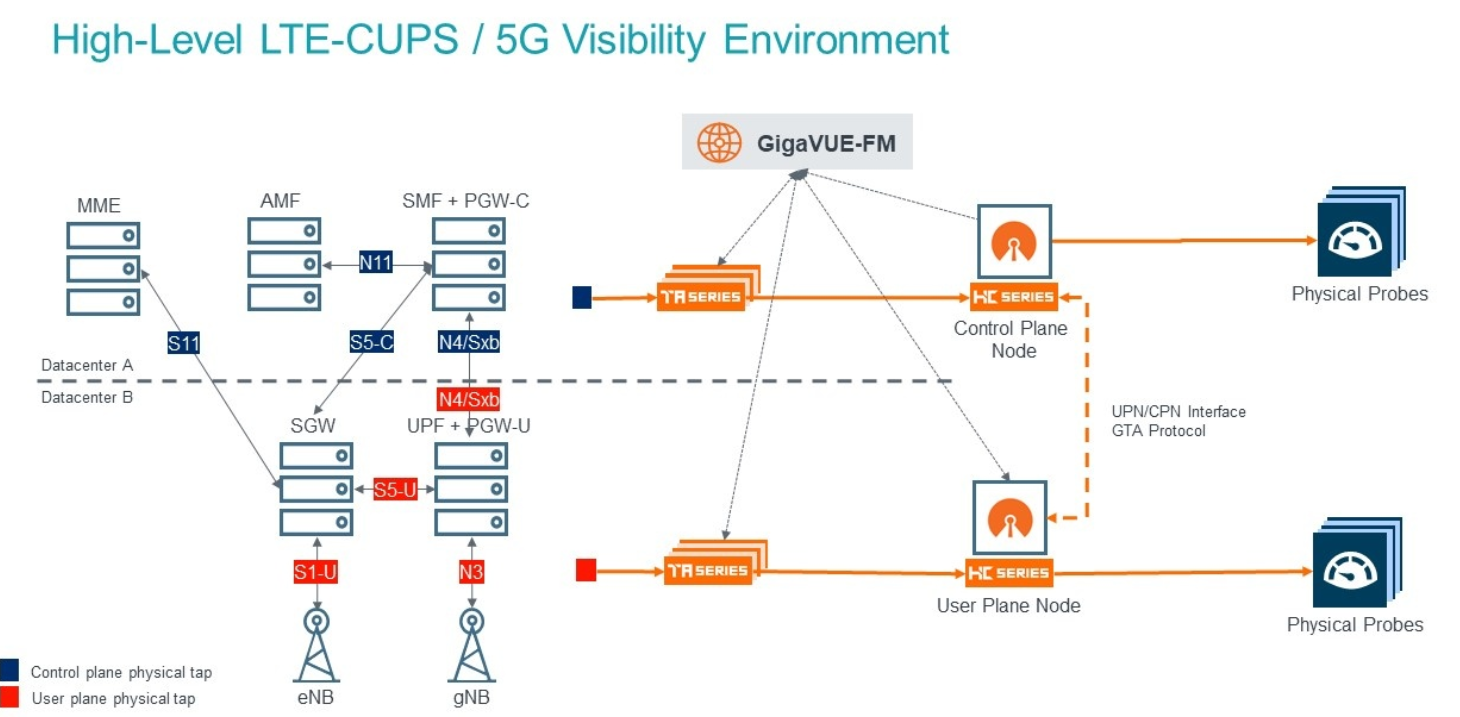 5G Load Balancing
If the node role is CPN, the load balancing of the packets depend upon the parameters configured for TCP in GigaVUE‑FM.
The UPN node load balances the correlated packets across all the tool ports based on the configured hash key value such as SUPI, PEI, GSPI.

Configure 5G Load Balancing
To configure 5G Load balancing, follow these steps:
1.  

From the left navigation pane, go to System >

GigaSMART

>

GigaSMART

 Operations(GSOP), and then click New.
| | | |
| --- | --- | --- |
| | 2. | Specify an Alias in the Alias field. |
3.

Click in the

GigaSMART

Group field and select a

GigaSMART

group.
4.

Click in the

GigaSMART

Operations (GSOP) field and select Load Balance in TCP Application Parameters.
| | | |
| --- | --- | --- |
| | 5. | Specify the paramaters. The following table explains the parameters for configuring the load balancing in CPN: |
TCP Application Parameters
Options

Application

| | | |
| --- | --- | --- |
| | | Broadcast - All the TCP handshake packets are broadcasted to the tool ports in all the maps. |

| | | |
| --- | --- | --- |
| | | Drop - All the unknown application packets of 5G are sent to the collector. |

 

Load Balance

| | | |
| --- | --- | --- |
| | | Enable - All the 5G control packets will be load balanced across the port-groups configured in the flowsampling and whitelisting maps. |

| | | |
| --- | --- | --- |
| | | Disable - All the 5G control packets will be broadcasted. |

TCP Control

| | | |
| --- | --- | --- |
| | | Broadcast - All the tcp handshake packets will be broadcasted to the tool ports in all the maps.. |

| | | |
| --- | --- | --- |
| | | Drop - All the TCP handshake packets will be sent to collector if configured |