View Alarms
To view the alarms triggered in GigaVUE‑FM:
| | | |
| --- | --- | --- |
| | 1.   | On the left navigation pane, click on and select Alarms. The Alarm page appears. Widgets for the following alarm categories appear on the top of the page. |
Note:  The widgets display the current system alarms that can be viewed by the logged in user. The data displayed on the widget is global data and will not change depending on the filter configured by the user. This is applicable for All Alarms and Correlated Alarms.
| | | |
| --- | --- | --- |
| | 2. | Click on the widgets to view the list of alarms belonging to that specific category. |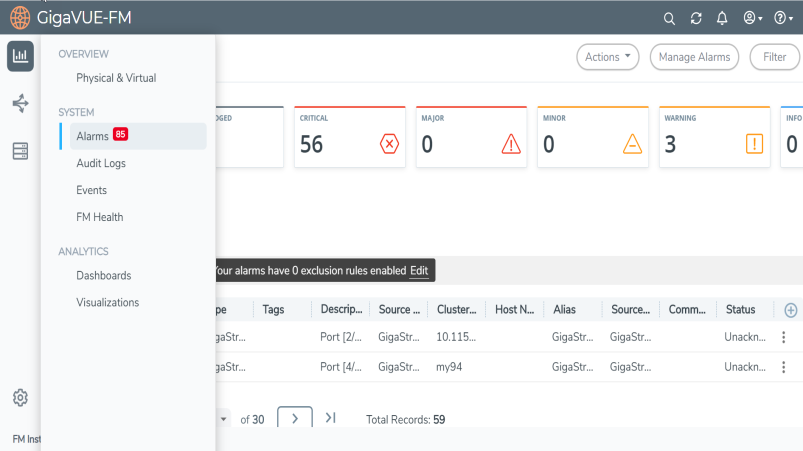 The alarm list view appears below the widgets. The View By option in the page allows you to toggle between the following two views:
All Alarms: Displays all active alarms in the system.
Correlated Alarms: Displays correlated alarms or top-level alarms. Refer to Alarm Correlation
The following table describes the parameters displayed in the alarm list view:
Permission Level

Description

Time

The time when the alarm was last triggered.

Severity

The severity status of the alarm. This can be critical. major, minor, warning or info.

Type

The type of event that generated the alarm. For example, Faulty power module, Unhealthy map, and so on.

Description

The description of the alarm type in detail.

Source Type

The source type that triggered the alarm, e.g. port, power module, fan.

Source ID

The ID of the resource associated with the alarm.

Note:  You can hover your mouse on the source id to view the cluster-id, source name and alias name for the ports that have an alias.

Comment

Comment added/updated by the user for the alarm.

Status

The status of the alarm. Can be:

| | | |
| --- | --- | --- |
| | | Acknowledged. You can hover your mouse to view the details of the user who acknowledged the alarm and the last acknowledged time. |

Cluster ID
Cluster Id

Host Name

Host name
Alias
Alias name

Last Acknowleged By

User who acknowledged the alarm.
Acknowledged Time
Time the alarm was acknowledged.

Last unAcknowleged By

User who unacknowledged the alarm.
UnacknowledgedTime
Time the alarm was unacknowledged.

Tags

Tags associated with the Alarms
| | | |
| --- | --- | --- |
| | 3. | Select an alarm and click the ellipsis to: |
Acknowledge:

To acknowledge an alarm.
Note:  This option is available only for unacknowledged alarms.
| | | |
| --- | --- | --- |
| | | Suppress: To suppress an alarm. |
Add Comment:

To add a comment while acknowledging an alarm. While acknowledging multiple alarms, the comment added will be applied to all the alarms.
View Details

: To view the details of an alarm such as alarm type, severity, description and other details.
| | | |
| --- | --- | --- |
| | | View History: To view the list of historical alarms. |
| | | |
| --- | --- | --- |
| | | Delete: To delete an alarm. |