GigaVUE® Online Documentation Features
The GigaVUE online documentation provides the complete documentation set for the specified release in a single, searchable Web interface. Troubleshooting and Gigamon Validated Designs are provided exclusively in online format.
Online documentation contains action buttons as well as options to jump to additional resources.
Action buttons
Use the action buttons at the top of the online documentation window to print or navigate through topics.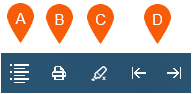 | | | |
| --- | --- | --- |
| | Figure 184 | Action icons in Online Documentation |
Expand All/Collapse All icon

= some topics have drop-down headings which you click to expand and view topic content. You can also click this icon to expand all the drop-down topics on the page.

Print

= print the entire topic

Printing tips:

To print a whole topic containing drop-down sections, click Expand All to expand all the sections before printing.
To prevent highlights from appearing in your print output, remove the highlights before printing

Remove Highlight

= removes highlights. When you arrive at a topic after clicking a topic link from search results, the searched words will appear highlighted for easy reference. Click this icon to remove the highlights.

Previous/Next

= navigate back to the previous topic or forward to the next topic. Online documentation has a default browse sequence that follows the same outline presented in the left navigation pane. You can use these navigation buttons to scroll through the topics in a section.
Additional Resources
The buttons along the top of our online documentation provides links to additional resources. For example, refer to the Documentation Library to download PDFs and access online documentation for recent releases. Additional resources are continuously being added to the library. Use the Gigamon Community (no login required) Search to find documentation across multiple releases and doc types, including Technical Publications, Gigamon Validated Designs, Expert Blogs, and more. Additional documentation is provided for registered customers and partners.

| | | |
| --- | --- | --- |
| | Figure 185 | Button options to access additional documentation resources |
Join the Gigamon Community to share knowledge and expertise, ask questions, build your network and learn about best practices for Gigamon products. The Gigamon Community is a great way to get answers fast, learn from experts and collaborate directly with other members around your areas of interest. Register today at community@gigamon.com.