Rack-Mounting the
GigaVUE TA Series
Safety Precautions
There are a wide variety of racks available on the market. Consult the instructions provided by the rack vendor for detailed mounting instructions before installing the GigaVUE Traffic Aggregation node.
Note:  Before rack-mounting the GigaVUE TA Series, please read the following safety precautions:
| | | |
| --- | --- | --- |
| | | Install any stabilizers provided for the rack before installing the chassis. Unsecured racks can tip over. |
| | | |
| --- | --- | --- |
| | | Install boxes in the rack from the bottom up with the heaviest boxes at the bottom. |
| | | |
| --- | --- | --- |
| | | Ensure adequate ventilation to the systems installed in the rack. |
This section describes how to rack-mount the GigaVUE Traffic Aggregation node in a standard 1RU rack space using the hardware provided with the chassis. The node mounts in an EIA-standard 19in or 24in telco rack or equipment cabinet, up to 39in deep.
GigaVUE Traffic Aggregation nodes are shipped with rack ears for front-mounting or rear-mounting (Figure 1) in either a two-post or four-post rack.
Two-Post Rack Methods:
Most GigaVUE Traffic Aggregation nodes can either be front mounted or rear mounted using the rack ears as shown below. GigaVUE-TA200 , GigaVUE‑TA25 can only be front mounted.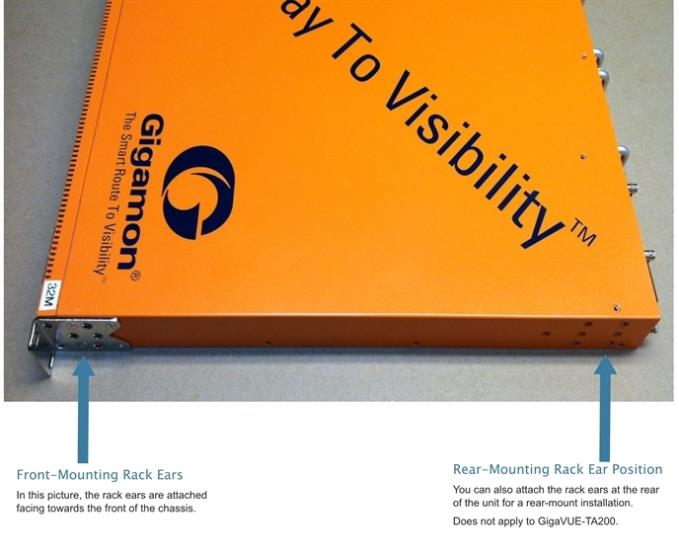 Figure 10

GigaVUE

Traffic Aggregator Rack Ears in Front-Mount Position
To mount the GigaVUE Traffic Aggregation node in a rack:
1.  

Attach the orange rack ears to the front or rear of the unit (rear mounting does not apply to

GigaVUE

-TA200

GigaVUE‑TA25

and

GigaVUE‑TA400

) using the supplied screws.
As shown in Figure 1, the rack ears can be attached for a front-mount or rear-mount installation. Select the installation that best fits the needs. For example, one position may provide better clearance for rack doors at the front of the chassis.
| | | |
| --- | --- | --- |
| | 2. | While one person supports the weight of the unit with the rack ears flush to the chassis, a second person can attach the ears to the rack with the supplied screws. |
Four-Post Rack Methods:
GigaVUE Traffic Aggregation nodes also come with a pair of full length mounting rails. These rails can be used for four point mounting on four-post racks. The keyhole rivets on the sides of each node can be used to adjust the fit of the node to the desired position or dimension on the rack.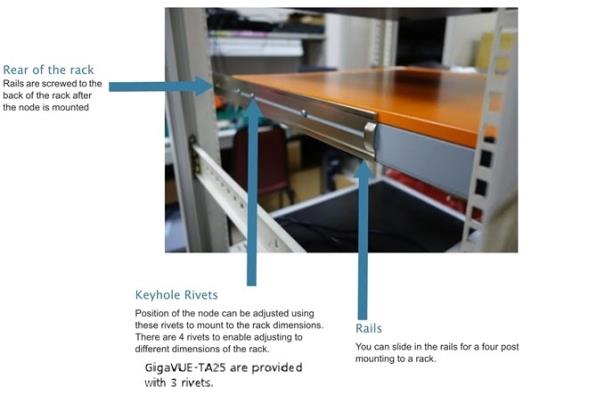 Figure 11

GigaVUE

Traffic Aggregator with Rail Mounting for Four-Post Racks
To mount the GigaVUE Traffic Aggregation node in a four-post rack:
| | | |
| --- | --- | --- |
| | 1.   | Attach the orange rack ears to the front of the unit using the supplied screws. |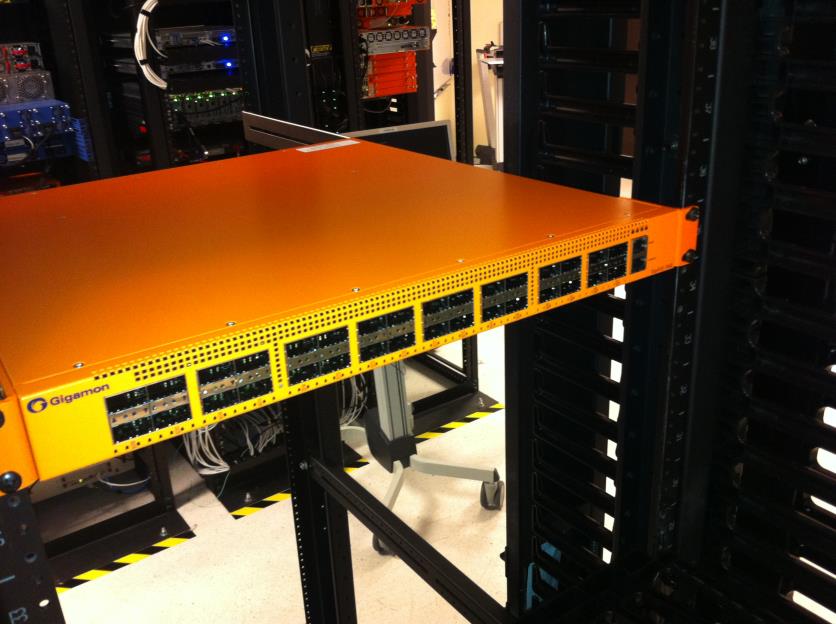 | | | |
| --- | --- | --- |
| | Figure 12 | Front View of the Mounted Node to the Four-Post Rack |
| | | |
| --- | --- | --- |
| | 2. | Slide in the provided rails on to the node. The position of the rails can be adjusted to fit the dimensions of the rack by sliding over the rivets and placing them securely over the rivets once set in the desired position. |
| | | |
| --- | --- | --- |
| | Figure 13 | Rear View of the Mounted Node and Rails on the Four-Post Rack |
| | | |
| --- | --- | --- |
| | 3. | Last, tighten the rails to the rear posts using the supplied screws. |